Ok i have been a very bad blogger and have not been updating but i honestly have had nothing positive to say and i really dont want this to be all depressing and the like or no one will ever come back and read about my o so boring life. Well if you are a follower you will probably have guessed by now that my treatment didnt work , but now they are doing some really nasty invasive investigations to try and figure out if there is some other cause other than my already diaognosed PCOS. Not nice and i will keep all the nasty details to myself other than last thursday i had a camera shoved where a camera was never designed to go. Ouch is all i'm saying!! You can picture the rest yourselves!! They also want us to seriuosly consider another form of treatment. To get onto this new program i have to take a few months of to get all the current drugs out of my system, before i start on the new lot. the new treatment is bit more expensive and i'm not sure what to do..........
But on a much lighter note I have been thoroughly enjoying the daily challenges that have been happening over at
TSH
. i cant wait to get my email in the morning before I head off to work.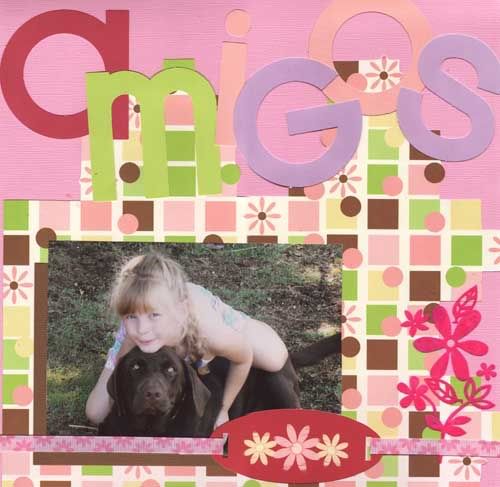 i dream about what i'm going to do with the challenge when I get home and when i do get home I cant wait to dive in and find the right photo and start creating. I havent created so many pages in a month before ever!! its been totally exhilerating, although many things that i should be doing i'm not, because I'm too busy scrapping!! All of my challenges i've been creating can be found
here!!
was suppose to be doing a class in adelaide this weekend run by the fabulous Steph but I have had to cancel..boo hoo...and now have to wait til June to start some classes with her. i cant wait though!!
O yea and if everyone hasnt heard....the totally gorgeous ROBBIE WILLIAMS is coming to adelaide!! I cant believe it and cant wait!! December 5th..woohoo!!! Now the biggest trick of all is to be able to get tickets!! Its going to be at AAMI stadium which should hold about 40,000 or so, so with fingers crossed i should be able to get tickets. they go on sale on june 7th. i have the computer booked for that day. everyone stay away from me about 9am until you hear me scream with joy!!!!